Meet Our Testing Team

Keith

Jackson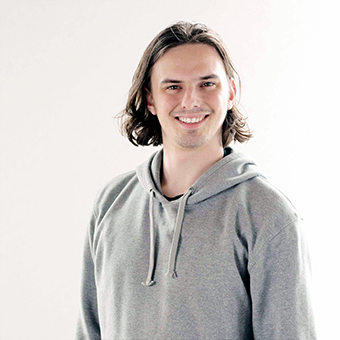 Jeremy

Amelia
General Overview
Pros
Adjustable loft and firmness
Hypoallergenic microfiber filling
Pure cotton cover with breathable percale weave
Two sizes available
Machine washable & dryable
100-night sleep trial with 100-year warranty
Free shipping on orders over $100 within contiguous U.S.
Cons
Not firm enough for some sleepers
Sleeps warm for some
Quick Summary
With a dream of revolutionizing the pillow industry, co-founders Logan Newell and Leo Haury engineered the Sleepgram Pillow with a customizable, three-in-one luxury design.
The sophisticated pillow features a zippered outer case with two removable, different-sized pillows inside. By removing and rearranging the inserts, the Sleepgram Pillow can be adjusted to different heights and firmness levels.
With its adjustable design, the Sleepgram is able to accommodate many different sleep styles, firmness preferences, and support needs.
Now let's see how customers, owners, and product testers rate the Sleepgram Pillow in terms of durability, temperature neutrality, and other important qualities. Our findings are below.
The Sleepgram pillow receives largely positive reviews, with many consumers appreciating its thoughtful design, adjustability, and fluffiness. Reviewers with neck pain often report the pillow is successful in helping to alleviate symptoms.
On the other hand, negative reviewers tend to report the pillow is too soft, even at its full loft and firmness level. Others complain about its heavier weight or mention it does not sleep any cooler than a traditional pillow.
What Type of Sleeper is Best Suited to the Sleepgram Pillow?
Sleepers with varying body mass indexes (BMIs) and sleep styles tend to have different support, firmness, and loft needs. The table below shows how customers of different weights and sleep positions rate the Sleepgram Pillow.
Please note that these ratings are subjective, and that everyone has varying experiences on different pillows. Sleeper comfort and spinal support are the most important factors when it comes to selecting a pillow.
For more information on sleeping positions please see our pillow guides for side, back, and stomach sleepers.
| | | | |
| --- | --- | --- | --- |
| Weight | Light | Average | Heavy |
| Sleep Position | Less than 130 LBS | 130 LBS - 230 LBS | Greater than 230 LBS |
| Side | | | |
| Back | | | |
| Stomach | | | |
| | | | |
| --- | --- | --- | --- |
| Weight | Light | Average | Heavy |
| Sleep Position | Less than 130 LBS | 130 LBS - 230 LBS | Greater than 230 LBS |
| Side | | | |
| Back | | | |
| Stomach | | | |
| | | | |
| --- | --- | --- | --- |
| Weight | Light | Average | Heavy |
| Sleep Position | Less than 130 LBS | 130 LBS - 230 LBS | Greater than 230 LBS |
| Side | | | |
| Back | | | |
| Stomach | | | |
Compare Pillows
Similar Pillow Options
Pillow

Pillow

TEMPUR-Cloud Breeze Dual Cooling Pillow

FIRMNESS
Medium Soft
Adjustable
Medium
LOFT
5" (Standard)
6" (King)
Adjustable
6.4"
SIZES
Standard
King
Standard
King
Queen
King
Tap here to see more mattress stats
Pillow Technical Details
What You Need to Know About the Sleepgram Pillow
Pricing and Sizing
First, we'll look at the dimensions of the Sleepgram Pillow in each available size, along with its current price-points.
| | | | |
| --- | --- | --- | --- |
| Size | Dimensions | Loft | Price |
| Standard/Queen | 18" x 26" w/2" gusset | Adjustable | $49.95 |
| King | 18" x 33" w/2" gusset | Adjustable | $64.95 |
Construction and Firmness
Now, let's look at how the Sleepgram Pillow is built. The table below lists firmness, thickness, and composition specs for the pillow.
| | | | |
| --- | --- | --- | --- |
| Size | Dimensions | Loft | Price |
| Standard/Queen | 18" x 26" w/2" gusset | Adjustable | $49.95 |
| King | 18" x 33" w/2" gusset | Adjustable | $64.95 |
The Sleepgram pillow sets itself apart from traditional pillows with its sophisticated, three-in-one adjustable construction. The pillow features a hypoallergenic, 100-percent cotton cover with a breathable percale weave designed to promote cool sleeping. Within the zipperable cover are two removable pillow inserts stuffed with a soft, hypoallergenic polyester microfiber. The microfiber fill is designed to offer the feel of down without allergy risks, odor potential, or use of animal products.
The two pillow inserts can easily be removed to adjust the pillow's loft and firmness. The Sleepgram can be arranged in any of the following combinations:
Blue only.  The "blue" insert, indicated by a blue tag, is the softest of the two inserts. At around 2.5 inches high, it is also the thinnest. Leaving only the blue insert inside the outer cover creates a soft, low-loft pillow. This option is ideal for those who prefer thin, highly moldable and lightweight pillow. It is recommended for stomach sleepers or those with neck pain.
Red only. The "red" insert, indicated by a red tag, offers a slightly firmer feel. At 4.5 inches high, the pillow insert also has a higher loft than the blue insert. Leaving only the red insert inside the cover creates a medium-firm, medium-loft pillow. The medium red-only option is ideal for those who want a slightly firmer and taller pillow with a bit more support. It is recommended for side sleepers or those with shoulder pain.
Blue and red together. Leaving both the blue and red inserts inside the case creates a firmer, higher-loft pillow. The blue and red-together option is ideal for those who prefer a taller, more supportive pillow. It's also recommended for back sleepers or those with back pain.
Sleepgram Coupons and Discounts
Sleep Trial

100 nights

Shipping

Sleepgram ships to all 50 states

Warranty

Lifetime

Made In

USA
Where Do They Ship?

Sleepgram ship anywhere in the U.S. and Canada.

Can You Wash the Sleepgram Pillow?

Machine wash on medium or low heat and tumble dry.

Sleepgram Pillow Care Instructions

To wash the Sleepgram Pillow, it's recommended that you remove the two pillow inserts from the cover to wash separately. Machine wash the inserts and cover on a "gentle" cycle with medium or low heat using a mild liquid detergent. Tumble dry with dryer balls or clean tennis balls to help keep microfiber from clumping.

Full Delivery Policy

Currently, Sleepgram ships to destinations within the U.S. and Canada. This includes all 50 states in addition to Puerto Rico, Guam, the Northern Mariana Islands, the U.S. Virgin Islands, American Samoa, and the Federated States of Micronesia. Only destinations within the 48 lower United States are eligible for free shipping on orders over $100.

Trial Period & Warranty Details

Sleep Trial

You can return your Sleepgram pillow within 100 calendar days after delivery for a full refund. To qualify for a return, the pillow must be unused or like new and include all its parts and tags. Returns do not need to be in original packaging, but should include a receipt or other proof of purchase.

To return your pillow, you'll need to contact Sleepgram at 877-257-5337 or email at [email protected]. The company will provide you with a RMA number and mailing address. You will need to cover return shipping unless your Sleepgram Pillow was damaged during the shipping process. If your return is accepted, you will receive a credit applied to your original payment method within 5 to 14 days after the return is received.

Warranty
The Sleepgram pillow is backed by a "Forever" warranty against manufacturer defects.
Company Information