Meet Our Testing Team

Jackson

Keith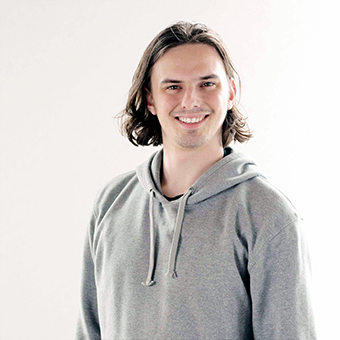 Jeremy
Recommended for...
Side and back sleepers. The S&S Mattress offers a balance of conforming and support. Based on our testing, this mattress is best suited to side and back sleepers.
People who weigh up to 230 pounds. Due to its medium firm feel, the S&S Mattress contours to a moderate extent. We recommend it to sleepers in the lightweight and average weight groups.
Couples. Like other all-foam models, the S&S Mattress offers exceptional motion isolation and does not make any noise. This helps minimize sleep disturbances for people when their partner moves around or gets in and out of bed.
Not Recommended for...
Stomach sleepers who weigh more than 230 pounds. While the mattress earned favorable ratings from most of our testing groups, heavyweight stomach sleepers found it a bit too soft and prone to uncomfortable sinkage.
People who prefer a very responsive mattress. As is often the case with all-foam models, the S&S Mattress lacks the bouncy surface feel of beds made with more responsive components such as latex or coils.
Ratings Summary

Our testing team conducted an extensive evaluation of the S&S Mattress. Our review and rating process consists of three parts: in-house evaluation, external sleep testing, and data collection of verified owner experiences. To learn more about our review process, read our methodology here.
Our performance criteria and ratings for the bed are listed in the table below.
As you can see, ratings for the S&S are mostly positive. Check out our full breakdown below for a detailed look at each performance rating category.
Sleep Position Ratings
As part of our ratings process, we evaluated the S&S Mattress across different body types and preferred sleep positions. In addition to physical testing, we surveyed our sleep expert team and analyzed reviews from verified mattress owners and customers. Our findings are listed in the table below.
For more information on sleeping positions please see our guides for side, back, stomach, and combination sleepers.
| | | | |
| --- | --- | --- | --- |
| Weight | Light | Average | Heavy |
| Sleep Position | Less than 130 LBS | 130 LBS - 230 LBS | Greater than 230 LBS |
| Side | | | |
| Back | | | |
| Stomach | | | |
How Is the S&S Mattress Constructed
Cover
The S&S Mattress is encased in a cover made from a blend of polyester and spandex, giving the material a very soft and stretchy feel. The fabric is infused with silver, which has antimicrobial properties and can help stave off dust mites and other allergens. The cover can be removed for cleaning and washed and dried in any household machine.
Comfort Layers
The S&S Mattress contains a 2-inch comfort layer of memory foam. The material conforms to a moderate yet even extent. Due to its medium density of 4 pounds per cubic foot (PCF), the foam is also fairly durable and should resist deep body impressions for most of the bed's lifespan.
Cooling gel is infused into the memory foam to draw heat away from the sleeper's body and help the mattress remain cool. That said, the foam may still trap heat and feel warm for some.
Transitional Layer
A 2-inch transitional layer of high-density (1.8 PCF) polyfoam is located beneath the comfort layer. This component essentially serves as a buffer to prevent sleepers from sinking excessively and coming into contact with the dense base foam.
Support Layers
The S&S Mattress has a 6-inch support core composed of high-density (1.8 PCF) polyfoam. This layer stabilizes the entire mattress, though it also compresses somewhat easily when someone sits on or sleeps near the edges of the bed.
Mattress Height
The S&S Mattress measures 10 inches thick, making it a medium-profile model. Since most of the mattress consists of high-density polyfoam, it feels somewhat firm and does not conform closely. However, the 2-inch comfort layer offers noticeable contouring and most people won't find the mattress too stiff.
Product Name
Firmness Level
Thickness
Support Core Components
Comfort Layer Components
Cover Components
Silk & Snow S&S Mattress
6 (Medium Firm)
10″
6″ 1.8 PCF HD Polyfoam
2″ 4 PCF Memory Foam
2″ 1.8 PCF HD Transitional Polyfoam
Polyester and Spandex Blend Infused with Silver
What Are the Firmness and Feel Like?
The S&S Mattress is a medium firm memory foam mattress. As such, sleepers who weigh 230 pounds or less will experience light yet noticeable body-conforming and very little sinkage. This feeling can be likened to both "sleeping on" and "sleeping in" the mattress at the same time.
The memory foam comfort layer is also fairly dense and responds slowly to the body, absorbing motion transfer in the process. Sleepers will notice very little bounciness on the surface when they change positions or get on and off the mattress. This can be a benefit or a drawback, depending on whether a sleeper prefers a springy mattress feel.
| | | | |
| --- | --- | --- | --- |
| Weight | Light | Average | Heavy |
| Sleep Position | Less than 130 LBS | 130 LBS - 230 LBS | Greater than 230 LBS |
| Side | | | |
| Back | | | |
| Stomach | | | |
Ratings Breakdown
Performance Ratings
Next, let's take a close look at our performance ratings for the S&S Mattress. Each rating is generated from a combination of experiences from verified mattress owners and our own in-house product research and testing.
Durability
The S&S Mattress has been available to the public for about three years. We have not had sufficient time to evaluate this model against the average mattress lifespan of six to eight years. Our durability rating is based on other factors, including quality of materials and construction and Silk & Snow's overall reputation.
We expect the S&S Mattress to perform for about six and a half years, which is on slightly above average for an all-foam mattress. While softer memory foam models with thicker comfort layers tend to develop surface impressions within the few years, the medium firm S&S Mattress is reinforced with 8 inches of high-density foam. Body impressions will eventually form, but owners should expect decent longevity from this mattress.
To minimize impressions even further, we recommend rotating the mattress head to foot every three to six months.
Motion Isolation
To evaluate the S&S Mattress for motion isolation, we asked two testers to lie on the mattress at the same time. One tester moved around on their side while the other felt for motion transferring across the surface.
The S&S Mattress performed well during these tests. While softer all-foam beds tend to isolate more motion than firmer ones, the S&S Mattress is constructed with a dense comfort layer that absorbs most movement and nearly eliminates transfer. This makes the mattress suitable for people who wake up easily when their sleep partner moves in bed.
Off-Gassing
Our testers noticed some strong off-gassing odor after unboxing the S&S Mattress. All-foam mattresses are associated with the most pungent off-gassing smells because they emit volatile organic compounds (VOCs), tiny particles that carry a distinct chemical scent. These odors persisted for a few days. Although they eventually dissipate, the S&S Mattress may be problematic at first for sleepers with a strong sensitivity to smell.
Owners can mitigate this issue to some extent by placing the mattress in a well-ventilated room for a few nights before sleeping on it.
Pressure Relief
To evaluate the S&S Mattress for pressure relief, our testers took turns lying on the bed with a sensory pad that tracks pressure buildup in the neck, lower back, and hips. Each tester changed positions to see if pressure increased or decreased on their sides, backs, and stomachs.
Pressure relief is another major strength of this mattress. The dense memory foam comfort layer conforms evenly to form a mold around the sleeper's body, but the bed's medium firm feel means most people who weigh 230 pounds or less won't sink too much. This combination of contouring and support results in even alignment for side sleepers, and less pressure in sensitive areas around the spine for all position groups.
Temperature Neutrality
The S&S Mattress contains a memory foam comfort layer infused with cooling gel. This gel is intended to draw body heat away from the body and help the mattress sleep cool. However, the foam is also fairly dense. This means it will probably absorb and trap more heat from sleepers. We expect most people will find the mattress reasonably comfortable, but those who tend to sleep hot may need a bed that offers more temperature control.
Edge Support
To evaluate the S&S Mattress for edge support, our testers sat along the perimeter as owners might do when getting in and out of bed. They also took turns lying near the edges to check for feelings of "roll-off."
Edge support for the S&S Mattress is fair at best – no surprise, given its all-foam construction. The high-density foam used in these models, while sturdy in its own right, is more susceptible to compression and sinkage than the latex or coils used in other mattress types. People who weigh less than 130 pounds may feel secure sleeping near the edges, but roll-off is more likely for heavier individuals.
Noise
The S&S Mattress was completely silent during all of our tests. This is a common characteristic for all-foam beds, which lack the internal components most often associated with mattress noises, such as coils or motorized air chambers. Owners can expect to sleep soundly on this mattress for the duration of its lifespan.
Sex
The S&S Mattress offers some advantages and drawbacks for sex. The dense memory foam delivers good traction. This allows couples to maintain the same position for prolonged periods. The mattress is also silent, making it discreet for amorous activities. However, the bed is not very responsive and this makes changing positions somewhat difficult. Additionally, the weak edge support may confine couples to the middle of the mattress and prevent them from using the entire surface.
Sleeper Ratings
The ideal firmness and thickness for a mattress largely depend on a sleeper's body weight, shape, and preferred sleep position. In order to better inform our readers and avoid subjectivity in our review, our team evaluated the bed with sleep testers of varying body types and position preferences.
Lightweight Sleepers – Less than 130 lbs.
Our lightweight sleep testers awarded the S&S Mattress positive ratings across the board. Back and stomach sleepers weighing less than 130 pounds were particularly impressed. These positions often require light contouring and an even surface that won't sink too much beneath the sleeper's heavier areas. All of our back and stomach sleepers in this weight group felt comfortable on the mattress and none experienced added pressure.
Lightweight side sleepers found the mattress a bit too firm, but noted good cushioning for the shoulders and hips. Side sleepers usually need added padding in these areas to align the spine and alleviate pressure points, so most gravitate toward softer mattresses.
Average Weight Sleepers – 130 to 230 lbs.
Our average weight sleepers also awarded strong ratings to the S&S Mattress. Unlike their lighter counterparts, side sleepers weighing 130 to 230 pounds agreed the mattress provided a very comfortable balance of cushioning and support. Back sleepers in this group reported the same results. Thanks to the bed's medium firm feel and dense composition, their bodies remained upright with little to no sagging between the shoulders and hips.
Average weight stomach sleepers, on the other hand, noticed more sinkage beneath their midsections. Most people carry a disproportionate amount of weight in their chest, stomach, and hips, so sleeping face-down can pull the entire body into the mattress. This often leads to added pressure around the neck, shoulders, and lower back. While none of these stomach sleepers complained of excessive sinkage, they didn't feel as comfortable as the side and back sleepers in their weight group.
Heavyweight Sleepers – More than 230 lbs.
Heavyweight side sleepers also found the S&S Mattress comfortable, though they were more divided in their ratings than other weight groups. While they noted more sinkage around the shoulders and hips, the bed's dense foam layers provided adequate reinforcement and added pressure was not a major issue.
Back and stomach sleepers weighing more than 230 pounds sank more deeply into the mattress, and some reported more pressure as a result. Whereas side sleepers often prefer softer beds, back and stomach sleepers usually feel more comfortable on firmer mattresses. That said, ratings from these testers were still mostly positive.
Pricing and Discounts
Twin $600
Twin XL $625
Full $725
Queen $800
King $800
Cal King $800
Silk & Snow Coupons and Promos
Buy the S&S Mattress at the best price.
Check current price.
How Does the S&S Mattress Compare to Other Beds?

When shopping for a new mattress, we recommend comparing as many different brands and models as possible in order to find the best options. In the next section, we'll see how the S&S Mattress stacks up against Silk & Snow's other mattress and a few similarly constructed models from competing brands.
S&S Mattress vs. S&S Hybrid
The S&S Hybrid shares a few similarities with Silk & Snow's flagship all-foam bed. For one, both mattresses are medium firm (6). Each one is also encased in the brand's signature cover infused with silver for antimicrobial protection.
There are key differences, as well. The S&S Hybrid is constructed with a polyfoam comfort layer over a memory foam transitional layer, which results in more responsiveness and less body-contouring than the S&S Mattress. The hybrid's support core contains zoned pocketed coils, which deliver enhanced support to the sleeper's heavier areas and cradling for the head and legs. The coils reinforce the edges quite well and promote steady airflow to keep the mattress cool. However, the S&S Mattress earns better ratings for pressure relief and motion isolation.
Both beds carry similar price-points, so cost probably won't be a factor for most shoppers. Instead, they should base their decision on which type of mattress experience they prefer. The S&S Mattress offers deeper conforming and body-cradling, while the S&S Hybrid is springy and also sleeps cooler.
Read our Silk & Snow Hybrid Mattress Review.
S&S Mattress vs. Casper Original
The Casper Original is a mixed-foam mattress featuring adaptive polyfoam and memory foam layers over a high-density foam base. The top polyfoam layer gives the Casper Original a light bounce on the surface, but the mattress is considered medium (5), so sleepers should expect deeper conforming compared to the S&S Mattress.
In other performance categories, the S&S Mattress and Casper Original have received comparable ratings. Both sleep relatively cool for all-foam mattresses, absorb movement to eliminate most transfer, and provide very good pressure relief for sleepers across different weight and position groups. However, the Casper Original's softer feel makes it better suited to lighter individuals, whereas heavier people are likely to find the S&S Mattress more comfortable.
The S&S Mattress costs a bit less than the Casper Original, so pricing may come into play for some buyers. They should also take firmness differences – as well as their own weight and preferred position – into account when deciding between these two models.
Read our full Casper Mattress Review.
S&S Mattress vs. Layla
The Layla is a flippable memory foam mattress with a different firmness level on each side. One surface is medium soft (4) while the other is firm (7), so the Layla is suitable for anyone whose preferences fall outside the medium firm feel of the S&S Mattress.
Both beds provide good antimicrobial protection. The S&S Mattress staves off dust mites thanks to its silver-infused cover, while the Layla's memory foam layers are infused with copper, another material with natural antimicrobial properties. The Layla's medium soft side alleviates more pressure and isolates motion better, while the firm side delivers stronger edge support and provides more responsiveness for sex. This versatile design may entice some buyers, but the S&S Mattress is still a solid choice that provides many of the same advantages.
The S&S Mattress and Layla carry similar sticker prices, though the latter comes with a lifetime warranty for added peace of mind. For most shoppers, their decision will boil down to firmness preference, though the idea of a flippable mattress may appeal to some more than others.
Read our full Layla Mattress Review.
S&S Hybrid vs. Nectar
The Nectar provides a traditional memory foam experience for sleepers. Two comfort layers of memory foam deliver close, precise contouring to form a pressure-relieving cradle around the body. The mattress also contains a memory foam transitional layer. This results in a feeling of sleeping "in" – not sleeping "on" – the mattress, as opposed to the more balanced feel of the S&S Mattress.
However, both beds are considered medium firm (6) and excessive sinkage won't be an issue for most people who weigh up to 230 pounds. There are other similarities, as well. Both beds sleep relatively cool despite their all-foam designs, and also deliver very good motion isolation for couples. Edge support is a bit stronger for the Nectar, but either mattress will sink to a noticeable extent for people who weigh 130 pounds or more.
The Nectar carries a lower price-point than the S&S Mattress, and also comes with a 365-night sleep trial and a lifetime warranty. These perks may incentivize some shoppers. Otherwise, they should choose one mattress over the other based on how much contouring they prefer.
Read our full Nectar Mattress Review.
S&S Hybrid vs. T&N Mattress
Unlike the S&S Mattress, the T&N Mattress from Tuft & Needle is an all-polyfoam design. A 3-inch comfort layer of adaptive polyfoam conforms to the body without the "hug" of memory foam, while a high-density base stabilizes the entire bed. The polyfoam also produces more bounciness on the surface, though the bed still offers limited responsiveness.
The T&N Mattress is medium firm (6.5), so its feel is comparable to that of the S&S Mattress. As a result, both mattresses are well suited to people with mid-range weights, side and back sleepers in particular. They are also good options for couples thanks to above-average ratings in the motion isolation and noise categories. Additionally, the T&N Mattress and S&S Mattress each sleep fairly cool for an all-foam mattress, though the former has a slight edge due to its more breathable comfort layer.
The T&N Mattress costs a bit less than the S&S Mattress, but both are reasonably priced. Those who prefer the light responsiveness and contouring of adaptive polyfoam will probably feel more comfortable on the T&N Mattress, while the S&S Mattress is a better fit for those who want a traditional memory foam experience.
| | | | | | | |
| --- | --- | --- | --- | --- | --- | --- |
| | S&S Mattress | S&S Hybrid | Casper | Layla Mattress | Nectar Mattress | Original |
| MATTRESS TYPE | Foam | Hybrid | Foam | Foam | Foam | Foam |
| PRICE RANGE | $800 | $850 | $1,095.00 | $1,099 | $899 | $895 |
| FIRMNESS OPTION | 6 | 6 | 5.5 | 4,7 | 6.5 | 6.5 |
| AVAILABILITY | online, in-store | online, in-store | online, in-store | online | online, in-store | online |
| SLEEP TRIAL | 100 nights | 100 nights | 100 nights | 120 nights | 365 nights | 100 nights |
| WARRANTY LENGTH | 15 years, prorated | 15 years, prorated | 10 Year, Limited | Lifetime | Lifetime | 10 Year, Non-prorated |
Silk & Snow FAQ
Sleep Trial

100 nights

Shipping

Free to Canadian provinces and contiguous U.S.

Warranty

15 years, partially prorated

Made In

Canada
Where Can I Buy the S&S Mattress?

At this time, the S&S Mattress can only be purchased through Silk & Snow. Customers can buy the mattress online through the Silk & Snow website, or in-person at the company's brick-and-mortar store in Toronto, Ottawa.

Where Do They Ship?

Silk & Snow ships mattresses anywhere in Canada and the U.S.

White Glove Delivery?

Silk & Snow does not offer White Glove delivery for any orders.

Old Mattress Removal?

Old mattress removal is not available for any S&S Mattress orders.

Full Delivery Policy

The delivery policy for Silk & Snow is as follows:

Shipping is free for those who reside in Canadian provinces and the contiguous U.S. Customers in Northwest Territories, Yukon, Nunavut, Alaska, and Hawaii must pay additional delivery charges.
After an order is placed, the S&S Mattress normally reaches its destination between two to nine business days. Expected wait time depends on the customer's location.
While a signature is not required when the mattress arrives, Canadian customers may request to sign for the package if they wish.

Trial Period and Warranty Details

The S&S Mattress comes with a 100-night sleep trial:

A mandatory 30-night break-in period is required with this trial. Customers may not return the mattress for a full refund until at least 30 nights after it is delivered.
Full refunds are issued for all returns initiated after the break-in period ends. Most customers receive their refund within 14 business days.
Silk & Snow allows one mattress return per household.

Silk & Snow offers a 15-year warranty for the S&S Mattress:

This warranty is partially prorated. During the first 10 years, Silk & Snow will repair or replace any defective mattress at no cost to the owner aside from shipping and transportation charges. From years 11 to 15, owners must pay 75% of the original mattress price to replace their bed.
Under this warranty, body impressions of at least 2 inches are considered defects that warrant repair or replacement. Other covered defects include physical flaws that cause the foams to deteriorate prematurely despite proper care and handling, and manufacturing flaws associated with the zipper assembly. Other issues such as normal wear and tear or physical damage are not covered.
This warranty is non-transferable, and is exclusively available to original owners who buy their mattress from Silk & Snow or an authorized retailer. Those who buy or obtain their mattress from the original owner or a non-authorized retailer will not be covered under warranty.
Company Information
Customer Service

8 out of 10 owner experiences indicate customers have had a positive experience with Silk & Snow, irrespective of whether or not they liked their mattress.

Company History

Silk & Snow launched in 2017 with the flagship S&S Mattress.

BBB Rating

At this time, Silk & Snow does not hold a rating with the Better Business Bureau.

Physical Stores

Silk & Snow operates one brick-and-mortar showroom in Toronto, ON. The S&S Mattress is not sold at any other physical locations.

Contact Silk & Snow

Find Silk & Snow on Social