Meet Our Testing Team

Keith

Jackson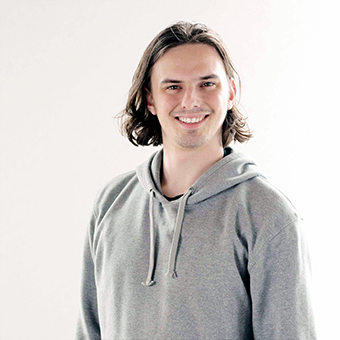 Jeremy
General Overview
Pros
Wireless and portable
Natural method to help fall asleep
Simple touchpad controls make it easy to operate
100 night sleep trial
Inexpensive compared to many conventional insomnia treatments
Cons
No low battery indication
Might not be effective for everyone
Those who have difficulty breathing or have low lung capacity may not find the Dodow suitable (asthma patients or severe allergies, etc.)
How Does the Dodow Work?
The Dodow is a sleep aid that uses a light metronome to provide a natural, non-habit forming, and inexpensive method to help users fall asleep within 20 minutes. The device has two settings that are controlled by tapping the top of the Dodow.
One Tap for an Eight Minute Session. For sleepers who have trouble falling asleep, this setting gradually decreases breathing rhythm to six breaths per minute for eight minutes.
Two Taps for a 20 Minute Session. The longer Dodow session may be beneficial to those will chronic insomnia who take several hours to fall asleep. The breathing rhythm slows to six breaths per minute for 20 minutes.
Breathing Techniques to Promote Better Sleep
Slowed, regulated breathing interacts with the body's nervous system. When performing a cardiac coherence exercise, like breathing along with the Dodow, the body relaxes and slows down metabolism. Slower breathing reduces blood pressure and increases the amount of carbon dioxide exhaled. When more carbon dioxide is exhaled, the size of blood vessels decreases and creates a feeling of tiredness.
Additionally, rather than focusing on falling asleep, stress, anxiety, or listening to a racing mind, focusing on a breathing rhythm serves as a distraction. This relaxation technique can be beneficial to those suffering from insomnia or sleep latency issues. The Dodow turns off automatically, so the user doesn't have to be aware of switching it off before sleeping.
Metronomes to Promote Better Sleep
Studies have explored the benefits metronomes and rhythms can have on sleep, and in turn memory storage. The Dodow implements a light metronome to facilitate falling asleep. It works in a comparable way as a synchronized rocking motion. This study observed how a rocking motion can promote slow oscillations, a main characteristic of deep sleep.
Both light and motion metronomes may promote the onset of sleep, as well as facilitate deeper uninterrupted sleep.
What's Included with the Dodow?
Each Dodow box comes with the following elements:
One Dodow device with touchpad capabilities for selecting an eight minute session or a 20 minute session.
Three AAA batteries which will last up to 100 nights with normal use.
Instructions manual for battery placement and how to use the device.
Customers will need a flat blade screwdriver or a coin to open the back of the Dodow to insert the batteries.
Dodow Technical Specifications
The table below lists dimensions, weight, and other key information for the Dodow.
| Key Information | Specs |
| --- | --- |
| Dimensions | 4.5″ x 4.5″ x 2″ |
| Weight | 7 ounces (without batteries) |
| Power Source | Battery operated |
| Necessary Batteries | 3 AAA |
| Power Consumption | Hundreds of nights |
| Luminosity | Less than one lux |
How Much Does a Dodow Cost?
The Dodow is currently priced at $59 per device. The company also a discount if more than one device is purchased at once. Two Dodows are priced at $98, a 16 percent discount off buying them individually. Three Dodows are priced at $117, 33 percent off the price of buying devices separately.
Sleep Trial

100 night sleep trial

Shipping

Dodow currently ships to 45 countries, including the United States and Canada.

Warranty

2 year warranty

Made In

80 percent of the Dodow is manufactured in France
Does the User Need to Sleep on Their Back for the Dodow to Work?

The company recommends sleepers lay on their backs to get the best experience from the Dodow. After the session is over, if the sleeper is still awake they may move to sleep on their side or stomach.

What Happens if the User is Still Awake After the Session has Ended?

Dodow states half of users will still be awake after the eight-minute or 20-minute session is over. Users may repeat the session again if desired until they fall asleep. Dodow promotes learning how to fall asleep within eight to 20 minutes, but that goal may take some users up to several months to achieve.

Can the Dodow Disrupt Other Sleepers in the Room?

The Dodow's blue light is low enough that any sleepers in the room who have their eyes closed will not notice the light.

Why Six Breaths Per Minute?

What if the Dodow Doesn't Turn On or Doesn't Seem to be Working Correctly?

The Dodow can be easily reset by removing the batteries and re-inserting them. Be sure to place the middle of the three batteries in last and don't touch the touchpad at the same time. Wait two seconds until the second signal light comes on before turning on the Dodow.

Does the Ceiling Need to be Flat for the Dodow to Work?

The Dodow light metronome's projection will work on sloped or flat ceilings.

Is the Dodow Suitable for Children or the Elderly?

Although their breathing capacity is different than an average adult, the Dodow can be safely used by children and the elderly. Dodow states it may take either age range more than one session to fall asleep. The company also points out the product may help alleviate fear of the dark that children commonly experience.

Isn't Blue Light Bad for Falling Asleep and Can Even Disrupt Sleep?

Smartphones, computers and televisions all emit blue light which has been linked to sleep onset and duration issues because it has an impact on the body's production of melatonin. The Dodow's light is blue but is too dim to cause any issues with melatonin secretion.
Company Information
Customer Service

8 of 10 owner experiences show customers have a positive experience with Dodow.

Company History

Physical Stores

Dodow does not operate any brick and mortar locations.

Contact Dodow

Find Dodow on Social