Meet Our Testing Team

Amelia

Lauren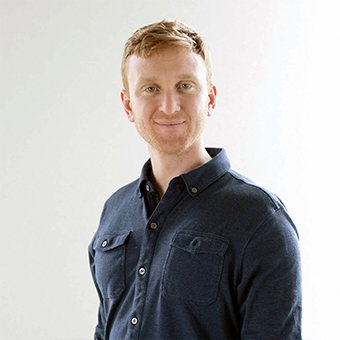 Jackson

Keith
General Overview
Pros
Two distinct models with differing firmness/thickness settings
Good temperature neutrality for hot sleepers
Free shipping in the U.S.
Cons
Some odor potential
Minimal moldability
Quick Summary
Also known for its memory foam mattress and other sleep accessories, Leesa offers two pillow models:
The Leesa Pillow is a one-piece pillow with a premium polyfoam core. The foam is aerated with tiny holes for added ventilation. This pillow also comes with a removable cover made of polyester and rayon. The Leesa Pillow is 'Medium' in terms of firmness, and has a 5″ loft.
The Leesa Hybrid Pillow is a reversible pillow with different components and firmness settings on each side. The 'Medium Soft' side is quilted and contoured, and padded with down alternative microfibers. The 'Medium Firm' side is flat and padded with a cooling gel insert. The pillow also has polyester interlining that is removable and machine-washable; it can also serve as a low-loft standalone pillow. The Leesa Hybrid Pillow also comes with a cover made from Tencel® lyocell and nylon.
Each Leesa pillow offers a different sleep experience. The Leesa Pillow conforms closely to the sleeper's head, neck, and shoulders to alleviate pressure points and improve spinal alignment for sleepers. The solid-foam core maintains a full shape and never requires fluffing. The ventilation holes also allow it to sleep cooler than other solid-foam pillows.
The Leesa Hybrid Pillow is a great choice for sleeper's who's pillow surface preferences vary from night to night. With two distinct sides, the hybrid pillow provides completely different feels. The cooling gel side sleeps fairly cool, while the down-alternative side feels exceptionally soft.
Leesa offers free standard shipping to customers in all 50 states, and deliveries are available to Canada as well. The pillows have above-average price-points, with the Leesa Hybrid being the more expensive option. Both pillows are backed by 100-night sleep trials and three-year warranties.
Read on to learn more about the Leesa Pillow and Leesa Hybrid Pillow in terms of construction, pricing, and performance. This guide also includes an overview of Leesa's shipping, return, and warrant policies, along with some similar pillow recommendations.
Now let's see how customers and testers rate the Leesa Pillow and Leesa Pillow based on factors like durability, odor potential, and pressure relief Our findings are below.
As you can see, the Leesa Pillow and Leesa Hybrid Pillow earned different ratings in most categories. The Leesa Pillow – which contains solid, ventilated foam – provides close conforming, alleviates a fair amount of pain, and maintains a consistent shape.
The Leesa Hybrid Pillow, on the other hand, offers a flippable design with different materials and firmness settings. It sleeps very cool and is exceptionally moldable too.
In terms of drawbacks, the Leesa Pillow is sold in one firmness setting and requires spot-cleaning, while the Leesa Hybrid Pillow does not conform very much and is exceptionally heavy.
What Type of Sleeper is Best Suited to a Leesa Pillow?
A sleeper's experience with a pillow often depends on his or her body weight and preferred sleep position.
Based on owner experiences and product analysis, the Leesa Pillow and Leesa Hybrid Pillow have earned the following ratings from sleepers with different weights and position preferences.
For more information on sleeping positions please see our pillow guides for side, back, and stomach sleepers.
| | | | |
| --- | --- | --- | --- |
| Weight | Light | Average | Heavy |
| Sleep Position | Less than 130 LBS | 130 LBS - 230 LBS | Greater than 230 LBS |
| Side | | | |
| Back | | | |
| Stomach | | | |
| | | | |
| --- | --- | --- | --- |
| Weight | Light | Average | Heavy |
| Sleep Position | Less than 130 LBS | 130 LBS - 230 LBS | Greater than 230 LBS |
| Side | | | |
| Back | | | |
| Stomach | | | |
Leesa Pillow Recommendations
You experience frequent aches and pains in your neck and shoulders.
You want a pillow that requires minimal fluffing.
You tend to sleep hot.
Leesa Hybrid Pillow Recommendations
You'd like a flippable pillow with a distinct feel on each surface.
You tend to sleep hot.
You want to avoid pillows with high odor potential.
Compare Pillows
Similar Pillow Options
Bear Pillow

Pillow

Layla Pillow

FIRMNESS
Medium
Medium Soft
Medium Soft
LOFT
5"
5" (Standard)
6" (King)
4"
SIZES
Queen
King
Standard
King
Queen
King
Tap here to see more mattress stats
Pillow Technical Details
What You Need to Know About Leesa Pillows
Sizing and Pricing
Below you'll find current prices for the Leesa Pillow and Leesa Hybrid Pillow in each available size.
Size
Availability
Dimensions
Loft
Price
Standard
Both pillows
18W" x 26L" (Leesa Pillow)
18W" x 24L" (Leesa Hybrid)
5″
$67 (Leesa Pillow)
$92 (Leesa Hybrid)
Queen
Leesa Hybrid Pillow only
16W" x 28L"
5″
$101 (Leesa Hybrid)
King
Leesa Pillow only
18W" x 32L"
5″
$84 (Leesa Pillow)
Construction and Firmness
The following table lists firmness, thickness, and material composition specs for the Leesa Pillow and the Leesa Hybrid Pillow.
Product Name
Firmness Options
Loft
Interior Components
Cover Components
Leesa Pillow
'Medium'
5″
Ventilated premium polyfoam
55% rayon
45% polyester
Leesa Hybrid Pillow
Quilted Side: 'Medium Soft'
Flat Side: 'Medium Firm'
5″
Quilted Side: Down Alternative Microfibers
Flat Side: Cooling Gel Insert
60% Tencel® lyocell
40% Nylon
Removable Polyester Interlining
Leesa Pillow Coupons and Discounts
Sleep Trial

100 nights

Shipping

Free to all 50 states

Warranty

3 years, nonprorated

Made In

USA
Where Do They Ship?

Leesa ships pillows anywhere in the U.S. and Canada.

What Is the Delivery Policy?

Delivery Policy

The delivery policy for Leesa is as follows:

All deliveries are coordinated through UPS Ground. Most customers receive their order within two to eight business days.
After 24 hours have elapsed since the order, customers will incur extra fees for changing their shipping information.
Expedited shipping is not available.

Can You Wash Leesa Pillows?

Both Leesa pillows have machine-washable covers. Other pillow components are spot-clean only.

Leesa Pillow Care Instructions

Cleaning Instructions for the Leesa Pillow are as follows:

Remove the cover and machine-wash in cold water with mild detergent.
Tumble dry the cover on a low or no-heat setting.
The foam core should only be spot cleaned. Use cold water and allow foam to air dry before re-covering.

Cleaning instructions for the Leesa Hybrid Pillow are as follows:

Remove cover and interlining from the pillow and machine-wash in warm water on a gentle cycle.
Tumble-dry the cover on a low setting; air-dry the interlining.
The gel insert is spot-clean only.

Trial Period and Warranty Details

Trial Period and Guarantee

Leesa offers a 100-night sleep trial for both pillow models.

This sleep trial does not include a break-in period of any kind; customers may return the pillow at any point of the trial.
Leesa will pay all shipping and transportation costs associated with returns. A prepaid shipping label will be mailed to customers who request a return.

Warranty

Leesa offers a 3-year warranty for all pillows.

This warranty is entirely nonprorated.
Owners must cover all shipping and transportation charges associated with pillow repairs, but Leesa will pay all additional costs.
The warranty will not cover normal changes in pillow softness or other forms of wear and tear, changes in the owner's comfort preferences, or physical damage such as burns, cuts, or stains.
This warranty is non-transferable. It only applies to original owners who purchase their pillow from Leesa or an authorized retailer. Those who buy or acquire their pillow from the original owner or a non-authorized retailer will notreceive warranty coverage.
Company Information
Customer Service

7 out of 10 owner experiences show customers have had a positive experience with Leesa, irrespective of whether or not they liked their pillow.

BBB Rating

Leesa currently holds an 'F' rating with the Better Business Bureau.

Company History

Leesa was established in 2014.

Physical Stores

Leesa owns and operates two 'Dream Gallery' brick-and-mortar showrooms in New York City and Virginia Beach.

Contact Leesa

Find Leesa on Social