Casper Pillow

Casper Down Pillow
Meet Our Testing Team

Amelia

Neil

Keith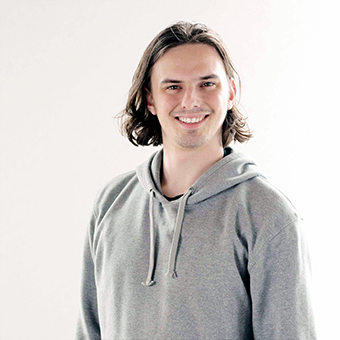 Jeremy
General Overview
Pros
Multiple loft and composition options
All pillows sleep fairly cool
Average to above-average durability
Free shipping within contiguous U.S.
Cons
Each pillow has one non-adjustable firmness option
Above-average pricing for both the Casper Pillow and Casper Down pillows
Quick Summary
Casper is a U.S.-based manufacturer best known for its memory foam and hybrid mattress selection. The company also offers three pillow models:
The Casper Pillow contains polyester microfiber fill. It features a pillow-on-pillow design with an internal pillow cushioned with crimped microfibers that offer stronger head and neck support, along with an outer pillow padded with longer, softer fibers for added cushioning. The outer pillow has a pima cotton-percale cover with polyester inner lining, as well as 2-inch gussets. It is considered 'Medium Soft.' The cover has a zipper that allows owners to remove the inner pillow for washing.
The Casper Down Pillow features a chambered design consisting of 60 percent white duck down and 40 percent feather fill in the inner chamber, and 80 percent down and 20 percent feather fill in the outer chamber. All down and feathers are ethically sourced. The pillow also has an inner polyester liner and a cotton shell. The pillow is considered 'Soft.'
The Casper Foam Pillow is constructed with three layers of foam to support the head and neck. The center foam layer offers support while the top and bottom layers are softer for conforming comfort. All three layers contain small channels allowing for strong breathability compared to most all-foam pillows. The pillow is considered "Medium Soft' on the firmness scale.
The Casper Pillow is fairly pliable and offers good support for most sleepers regardless of their body dimensions or sleep position. The microfibers and breathable cover help regulate the temperature, allowing the pillow to sleep fairly cool, and the gusseted edges help maintain a consistent shape and good fill distribution. Both pillow layers are machine-washable, as well.
The Casper Down Pillow can also be washed and dried in any front-loading machine, making it easier to clean than many competing down/feather pillows. Its ultra-plush surface is ideal for people who enjoy the sensation of their head and neck sinking into the pillow. The chambered design makes the pillow fairly resilient and supportive, as well.
The Casper Foam pillow is a 'Medium Soft' pillow with a supportive core layer to relieve pressure on the head and neck regardless of sleeping position. More temperature neutral than most all-foam pillow, the foam layers features ventilation holes to allow for airflow throughout the pillow. Further, the jersey knit cover that provides a fairly breathable outer shell.
This design is ideal for those who sleep hot but like the conforming feeling of a memory foam pillow. The cover is easy to remove and machine wash.
Casper sells all three pillow models in standard and king sizes. Read on to learn more about these products in terms of construction, pricing, and performance ratings, as well as the company's customer policies and similar brand recommendations.
Members of our testing team evaluated the Casper Pillows for several different qualities and characteristics. Our findings are listed below.
In conclusion, the Casper Pillow's dual-layer offers stronger support and better temperature neutrality than many competing models with polyester microfiber fill.
Shape retention is another key strength; gusseted sides help evenly distribute the fill throughout the interior, and the inner pillow adds extra structural support.
It is easy to clean and highly moldable, as well. However, the pillow is exclusively available in a 'Medium Soft' setting and may not conform closely enough to alleviate aches and pains for sleepers with discomfort issues.
The Casper Down Pillow is also very easy to clean, as it can be washed and dried in any machine. Comparatively, down and feather pillows typically need spot-cleaning or dry-cleaning. The pillow also has a chambered design, making it more durable than most competing down/feather models with an open interior. Like the Casper pillow, the Casper Down offers limited conforming to the head and neck.
The Casper Foam pillow offers three malleable layers consisting of polyfoam and memory foam, making for excellent conforming and moldability. It also features tiny vents that make it more breathable that most foam pillows. Nonetheless, its all-foam construction will inevitably trap some body heat.
All three pillows are only available in one firmness/loft setting, making them a bit less versatile than some competitors.
What Type of Sleeper is Best Suited to a Casper Pillow?
Based on our evaluations and customer feedback, the Casper Pillow received the following grades from sleepers with different weights and preferred positions.
Please note that these ratings are subjective, and that everyone has varying experiences on different pillows. Sleep comfort and spinal support are the two most important factors when selecting a pillow.
For more information on sleeping positions please see our pillow guides for side, back, and stomach sleepers.
Casper Pillow

Down Pillow

Casper Foam Pillow
| | | | |
| --- | --- | --- | --- |
| Weight | Light | Average | Heavy |
| Sleep Position | Less than 130 LBS | 130 LBS - 230 LBS | Greater than 230 LBS |
| Side | | | |
| Back | | | |
| Stomach | | | |
| | | | |
| --- | --- | --- | --- |
| Weight | Light | Average | Heavy |
| Sleep Position | Less than 130 LBS | 130 LBS - 230 LBS | Greater than 230 LBS |
| Side | | | |
| Back | | | |
| Stomach | | | |
| | | | |
| --- | --- | --- | --- |
| Weight | Light | Average | Heavy |
| Sleep Position | Less than 130 LBS | 130 LBS - 230 LBS | Greater than 230 LBS |
| Side | | | |
| Back | | | |
| Stomach | | | |
Compare Pillows
Similar Pillow Options
Layla Pillow

Premium

Eden

FIRMNESS
Medium Soft
Least Firm - Yellow
Regular Fill - White
More Fill - Green
Firm - Blue
Medium Soft
LOFT
4"
Adjustable
Adjustable
6" when new
SIZES
Queen
King
Standard/Queen
King
Queen
King
Tap here to see more mattress stats
Pillow Technical Details
What You Need to Know About Casper Pillows
Pricing and Sizing
Standard

$65 Casper Pillow

$125 Casper Down Pillow

$89 Casper Foam Pillow

King

$85 Casper Pillow

$165 Casper Down Pillow

$119 Casper Foam Pillow
The next table lists dimensions and loft measurements for the Casper Pillows in each available model and size.
Pillow Model
Size
Dimensions
Loft
Casper Pillow
Standard
18W" x 26L"
5″
King
18W" x 34L"
6″
Casper Down Pillow
Standard
18W" x 26L"
6″
King
18W" x 34L"
6″
Casper Foam Pillow
Standard
16W" x 24L"
6″
King
16W" x 32L"
6″
Firmness Options: The Casper Pillow and Casper Foam Pillow are considered 'Medium Soft' in both sizes, while the Casper Down Pillow is 'Soft' in both sizes. These settings are not adjustable.
Package Deals: At this time, Casper does not appear to offer any package deals or bundles that include the Casper Pillow.
Construction and Firmness
The table below lists firmness, thickness, and composition specs for both Casper pillows.
Product Name
Firmness Options
Loft
Inner Pillow Components
Outer Pillow Components
Casper Pillow
'Medium Soft'
5″ (Standard)
6″ (King)
Crimped Polyester Microfiber Fill
Long Polyester Microfiber Fill
Cotton Cover with Polyester Lining
Casper Down Pillow
'Soft'
6″ (Both Sizes)
100% Polyester Liner
80% White Duck Down, 20% Feathers (Outer Chamber)
60% White Duck Down, 40% Feathers (Inner Chamber)
100% Cotton
Casper Foam Pillow
'Medium Soft'
6″ (Both Sizes)
77% Polyurethane Foam, 23% Viscoelastic Polyurethane Foam
Cover: Jersey knit with 88% Polyester, 12% Spandex
Pillow Liner: 90% Polyester, 10% Spandex
Casper Coupons and Discounts
Sleep Trial

100 nights

Shipping

US and Canada

Warranty

1 year

Made In

USA
Where Do They Ship?

Casper ships pillows anywhere in the U.S. and Canada.

What is the Delivery Policy?

The delivery policy for Casper is as follows:

All Casper deliveries are coordinated through UPS.
The pillow normally ships from Casper's manufacturing facility within one to two business days; once it ships, customers can monitor the delivery status using their UPS tracking number.

Can You Wash Casper pillows?

The Casper Pillow, Casper Down Pillow, and the cover of the Casper Foam Pillow can be laundered in the washing machine.

Casper Pillow Care Instructions

Cleaning instructions for the Casper Pillow are as follows:

Prior to washing, unzip the cover and remove the inner pillow.
Zip the outer layer until it is completely closed.
Wash both the inner and outer pillows together; front-loading machines are preferred, but not required.
Wash with mild detergent in cold water on a gentle cycle.
Tumble dry both layers on a low setting; dryer balls or clean tennis balls are recommended.
Wash pillows every three to six months.

Cleaning instructions for the Casper Down Pillow are as follows:

The pillow can be placed as is in any front-loading washing machine.
Machine wash warm on a normal cycle using mild detergent. If needed, use bleach that does not contain chlorine.
Tumble dry on a low setting. Dryer balls are recommended.

Cleaning instructions for the Casper Foam Pillow are as follows:

Remove the cover from the pillow and machine wash in cold water on a delicate cycle.
The cover should be air dried in a flat position. Do not bleach or iron the cover.
The foam pillow itself cannot be washed.

Full Delivery Policy

The delivery policy for Casper pillows is as follows:

UPS Ground is used for Casper deliveries. Most customers will receive their  pillow within two to five business days of the original purchase, depending on their location.
Free standard shipping is offered to all customers in the contiguous U.S. and parts of Canada. Additional fees may apply for Hawaii and Alaska. For Canadian customers, additional fees may apply for Northwest Territories, Yukon and Nunavut. Customers in New York City, Los Angeles, and San Francisco are eligible for same-day courier deliveries.

Trial Period & Warranty Details

Trial Period and Guarantee

Casper offers a 100-night sleep trial for all pillow products.

This sleep trial does not require a break-in period; customers may return their pillow at any point of the 100-night trial in exchange for a full refund.
Full refunds are issued for all returns within 100 nights of the original order.
In the event of a return, Casper will cover all shipping costs and send a courier to retrieve the pillow from the customer's residence..
Returned pillows are either recycled or donated to charity.


Warranty

Casper offers a 1-year warranty for both pillows:

The warranty is completely nonprorated.
This warranty does not extend to customers who plan to use the pillow in commercial settings.
This warranty is non-transferable, and exclusively applies to original owners who purchase their pillow from Casper or an authorized retailer.
Company Information
Customer Service

8 out of 10 owner experiences show customers have had a positive experience with Casper, irrespective of whether or not they liked their pillow.

Company History

Casper was founded in 2013 and officially launched the following year.

BBB Rating

Casper currently holds an 'A+' rating with the Better Business Bureau.

Physical Stores

Physical Stores Casper operates a total of 14 brick-and-mortar stores in Connecticut, Delaware, Massachusetts, New Jersey, New York, and Pennsylvania. Casper products are also sold in a handful of brick-and-mortar retail locations. A full store directory is found on the Casper website.

Contact Casper

Find Casper on Social